I'm sorry, but Park Plaza Liquor and Deli has the best pizza in town, and that's not the surprising part.
The funny thing about Park Plaza Liquor and Deli is that it's primarily a liquor store, and an amazing one at that.
From their web site: http://parkplazaliquor.com/
Owner and wine lover Trevor Phillips opened Park Plaza Liquor and Deli in the summer of 2007 with a vision of creating Prescott's and Northern Arizona's best selection of beer, wine and spirits. Along the way Park Plaza has built its single malt scotch selection to over 150, 1000 beers and over 1,000 different wines from around the world.
Phoenix magazine called it "the best bottle shop in Arizona". They were "particularly impressed by the creatively curated spirit selection, which included not just interesting global rarities like poblano-based liquor Ancho Reyes Verde (good luck finding that at Total Wine) but super-small-batch Arizona offerings that I'd never heard of".
They have a full service kitchen that also does catering, a taco cart, a private dining room capable of hosting parties, plus a walk in humidor with a large selection of cigars, and a smoking patio.
I had a chance to talk with General Manager Erik Rackoff last time we ate there. He told me that the vision is to be able to smoke cigars, drink whatever you select, all while you eat great food.
They are the only place in Arizona where you can do that with this selection of beers, wines, and spirits.
They have a large selection of small batch allocations from various suppliers, which means that you can find spirits, beers, and wines here that you can't find anywhere else in Prescott, and maybe not in all of Arizona.
Their primary goal is to be the best liquor store in Arizona. From what I can see, they achieved that.
Location
Park Plaza Liquor and Deli is located, surprisingly, in Park Plaza, directly two blocks west of Courthouse Square.
When we remodeled our house a few years ago, we used Builder's Wholesale to supply our windows, doors, and fireplace.
Builder's Wholesale was located just to the right of the existing Park Plaza Liquor and Deli, in the corner.
At that time, we never went into Park Plaza Liquor and Deli, because I thought it was just a liquor store.
I had no idea they served food, even though I would see people eating in their outdoor patio.
Who pays attention to these things?
Builder's Wholesale outgrew that location and moved in 2016, allowing Park Plaza Liquor and Deli to expand into the space, beginning in Nov. of 2016.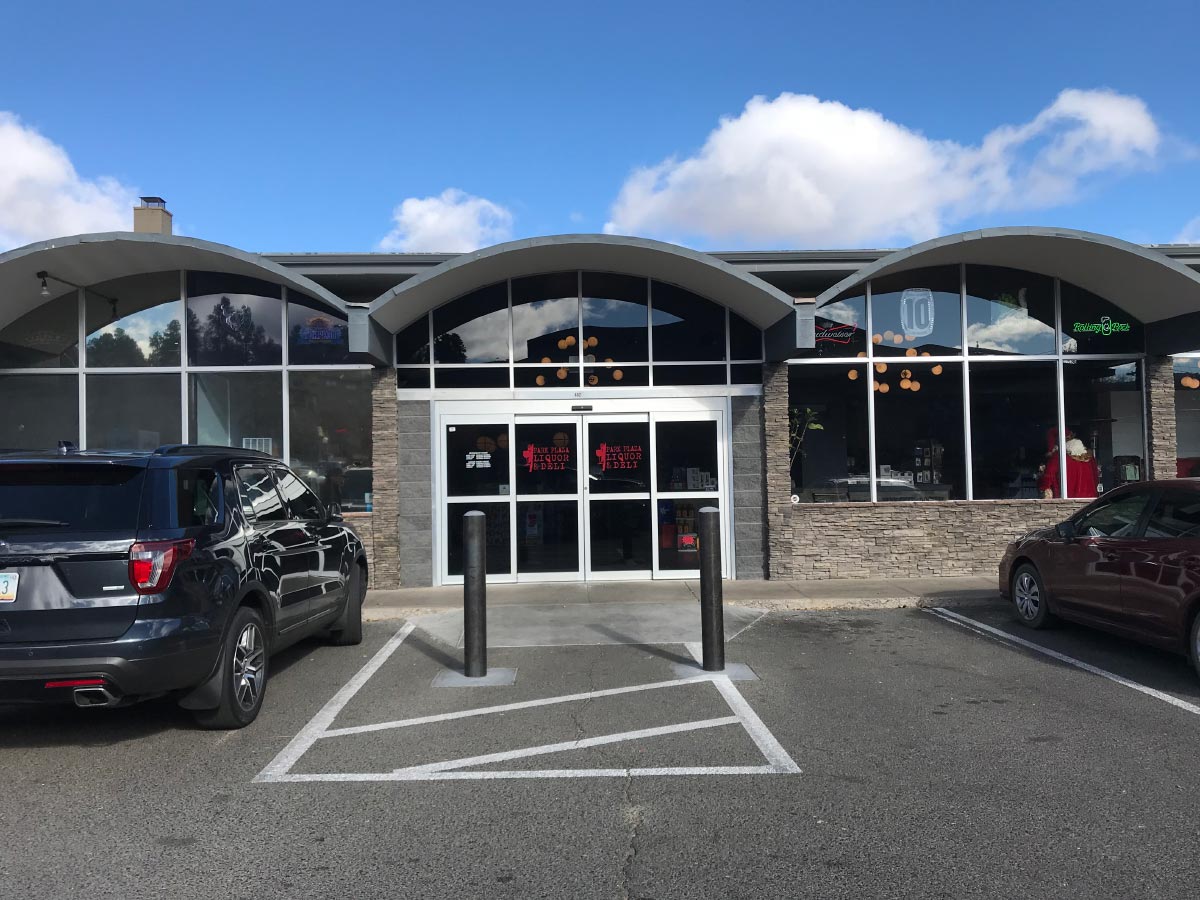 Menu
I heard about their "Stinkin Rose" pizza on Facebook, and because I'm a huge garlic lover, I had to try it out.
I'm just going to say that it's the best pizza I've ever had.
I know those are big words, but I think I can back it up.
Garlic, red onions, and pepperoni on a thin, crispy crust. What else do you need?
The crust has a slightly sweet flavor, but just enough to compliment the toppings.
Sometimes, the crust can be a little soggy, but normally, it's perfect.
I can eat a whole one myself. Yes, I can.
Of course my wife won't kiss me for a day after that, but it's worth it.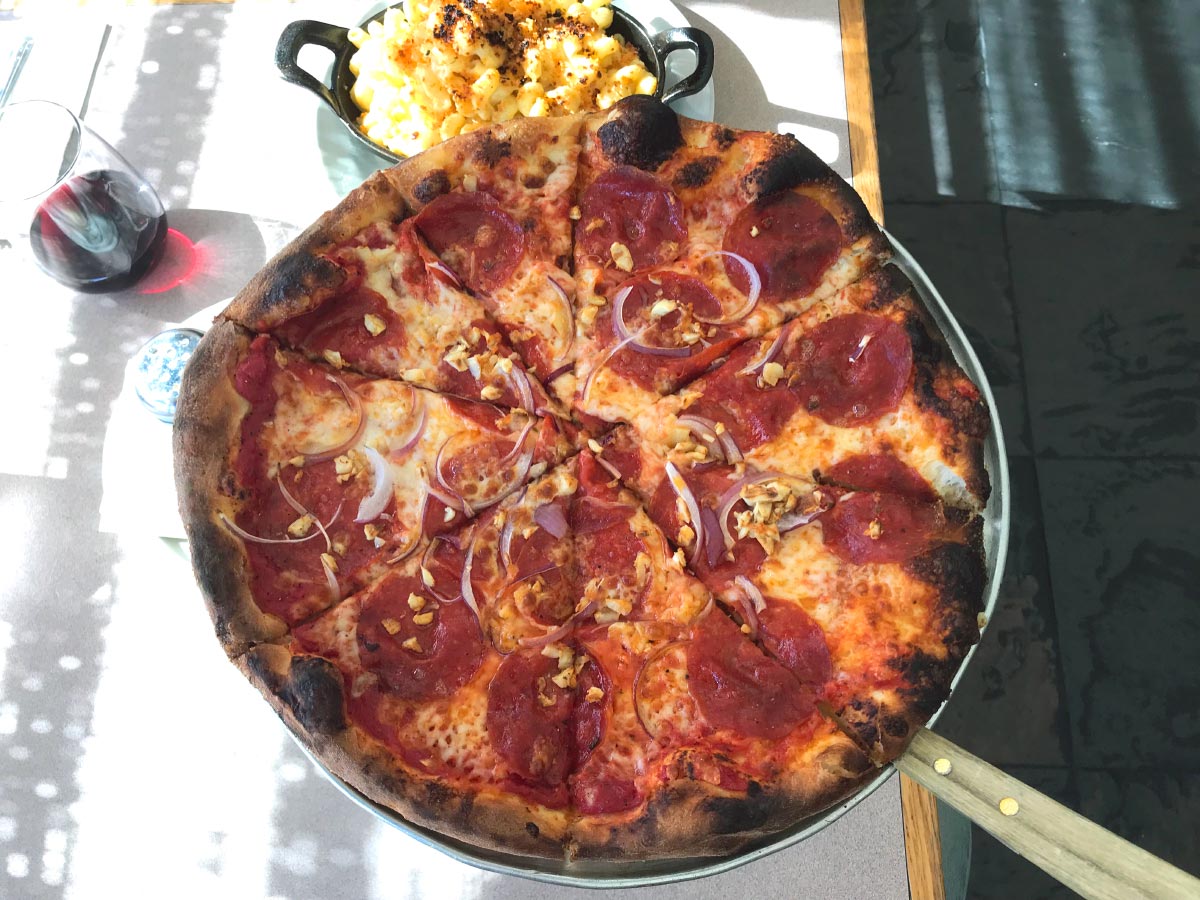 Once I had that, I saw their Mac and Cheese on the menu.
Besides garlic, I'm a sucker for any Mac and Cheese. Even bad Mac and Cheese is good.
This Mac and Cheese is legendary.
You can add any of a list of toppings, but you know that you have to add bacon.
I mean, because "bacon". Am I right?
Best dish in the whole place was Mac and Cheese with Bacon.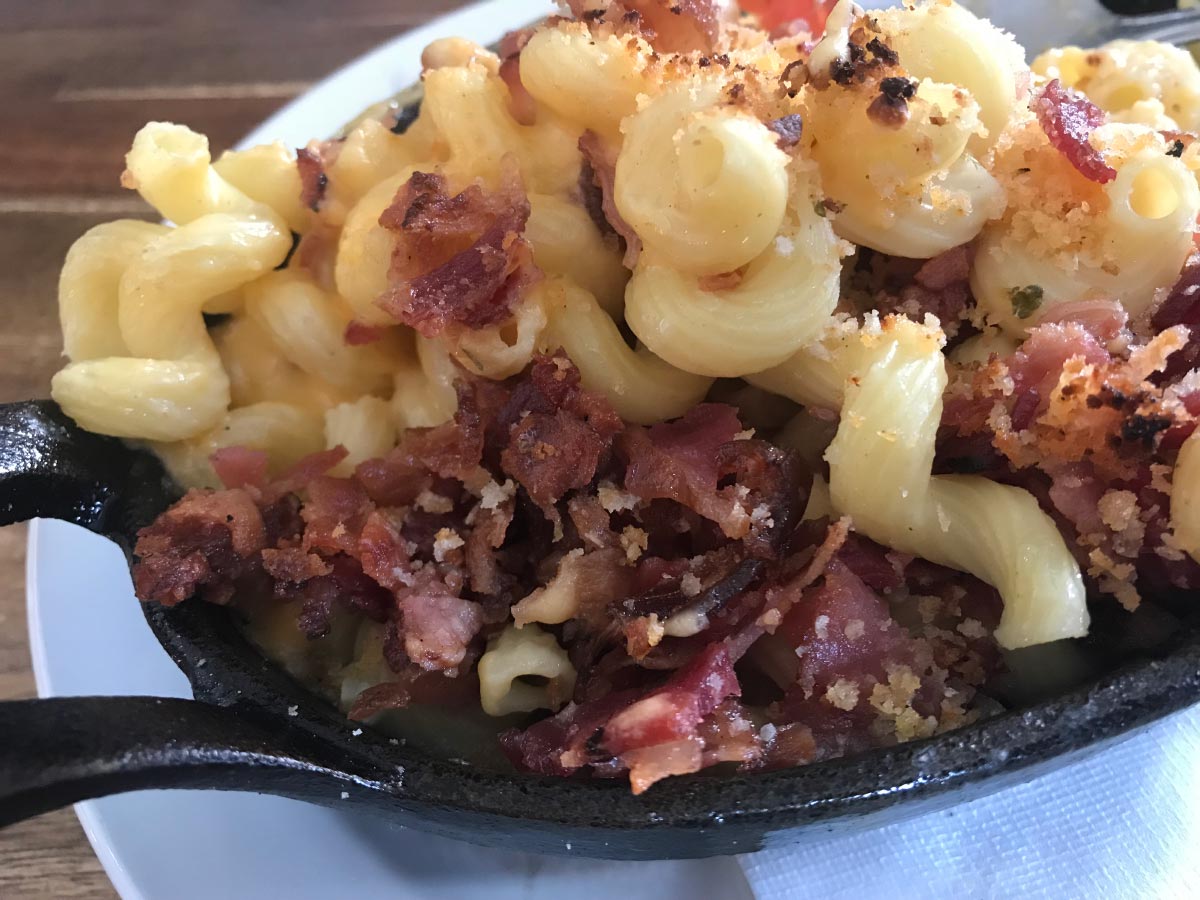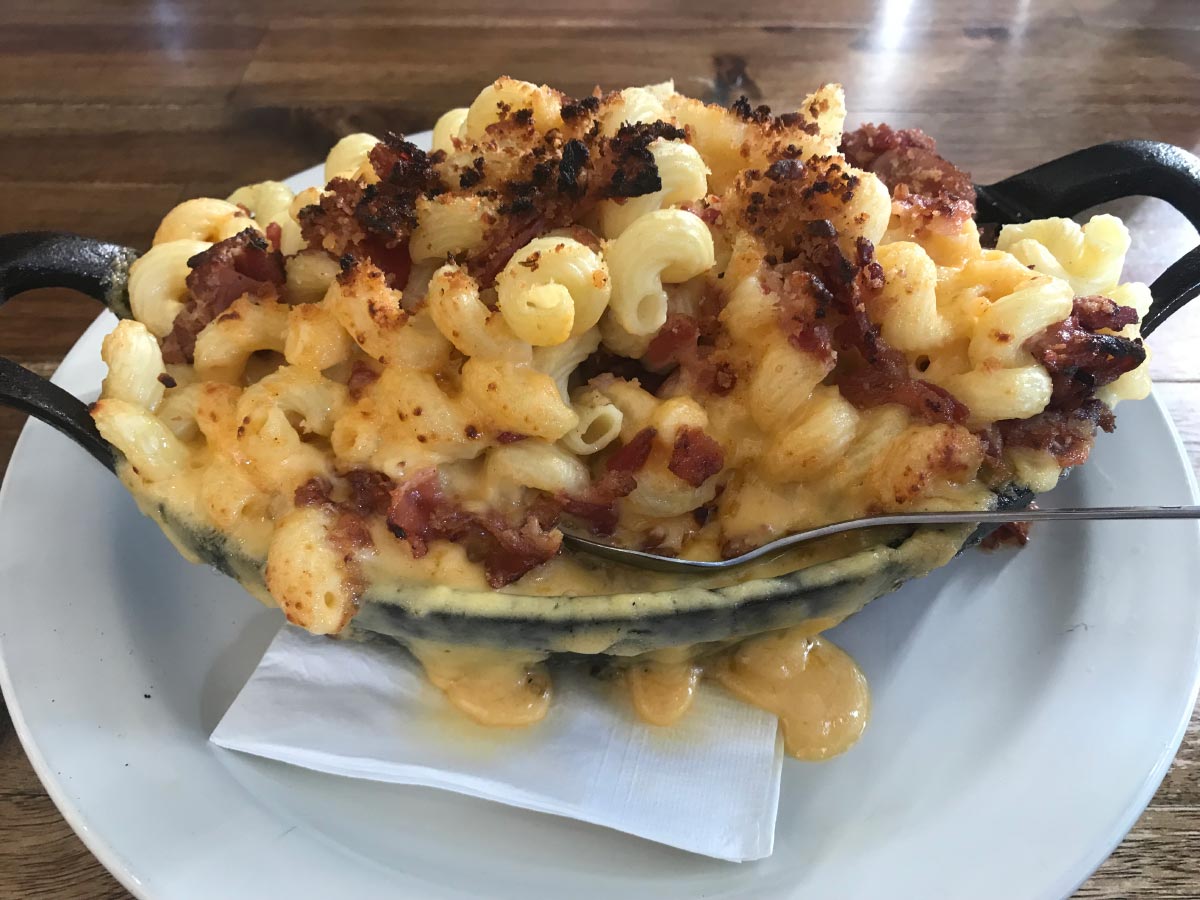 The "Ron Swanson Challenge" looks like fun.
If you can eat 8 patties, 16 slices of cheese, and a basket of fries, in less than 30 minutes, it's free.
One day, the crown will be mine.
I've had a couple of the sandwiches. They were generally good. I'd give them "above average".
I remember one being disappointing, soggy and flat tasting. I've flushed it from my memory.
My wife loves the Gyro. It's one of her favorite sandwich. Another of her favorites is the Ol' Avacado all veggie sandwich.
The photo is a tuna melt. It's really good. Another good, solid sandwich.
My wife loves their sweet potato fries, so they are on the plate.
I love their regular fries. I'm a skinny fry guy, so these are what I'm looking for.
(That's a "skinny fry" guy, not a skinny "fry guy". I'm not skinny, but I do love fries.)
I tried the onion rings. I think they are too big, so the batter falls off when you eat them.
They're good enough, but I'm not a fan.
I'm a skinny onion ring guy too, I guess.
Because they are a liquor store, they also have a huge array of beers and wines to choose from.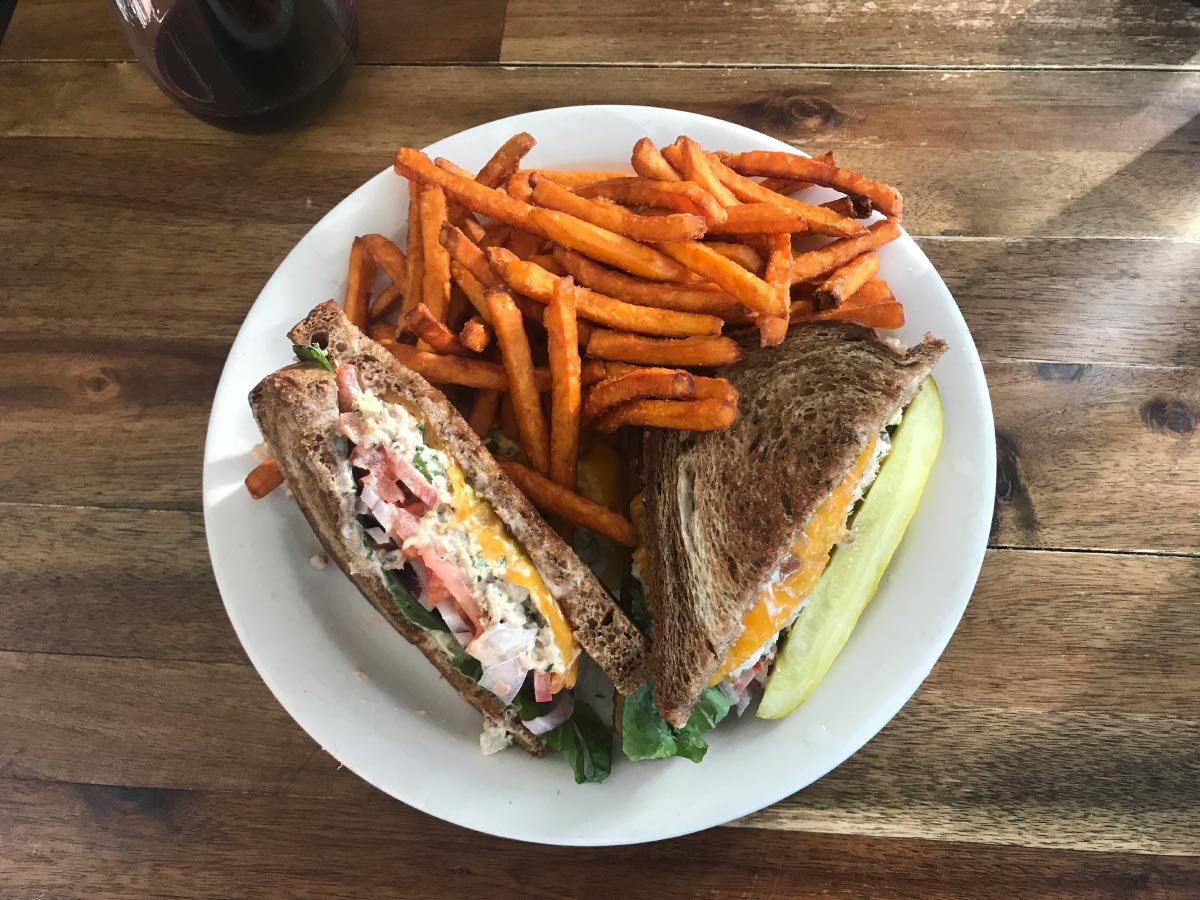 Ambiance
The outside looks like a strip mall, mostly because it's a strip mall.
The first thing you see when you walk in, is the liquor store section, and wonder if you're in the right place.
Turn to the left and you'll see the "wait to be seated" sign.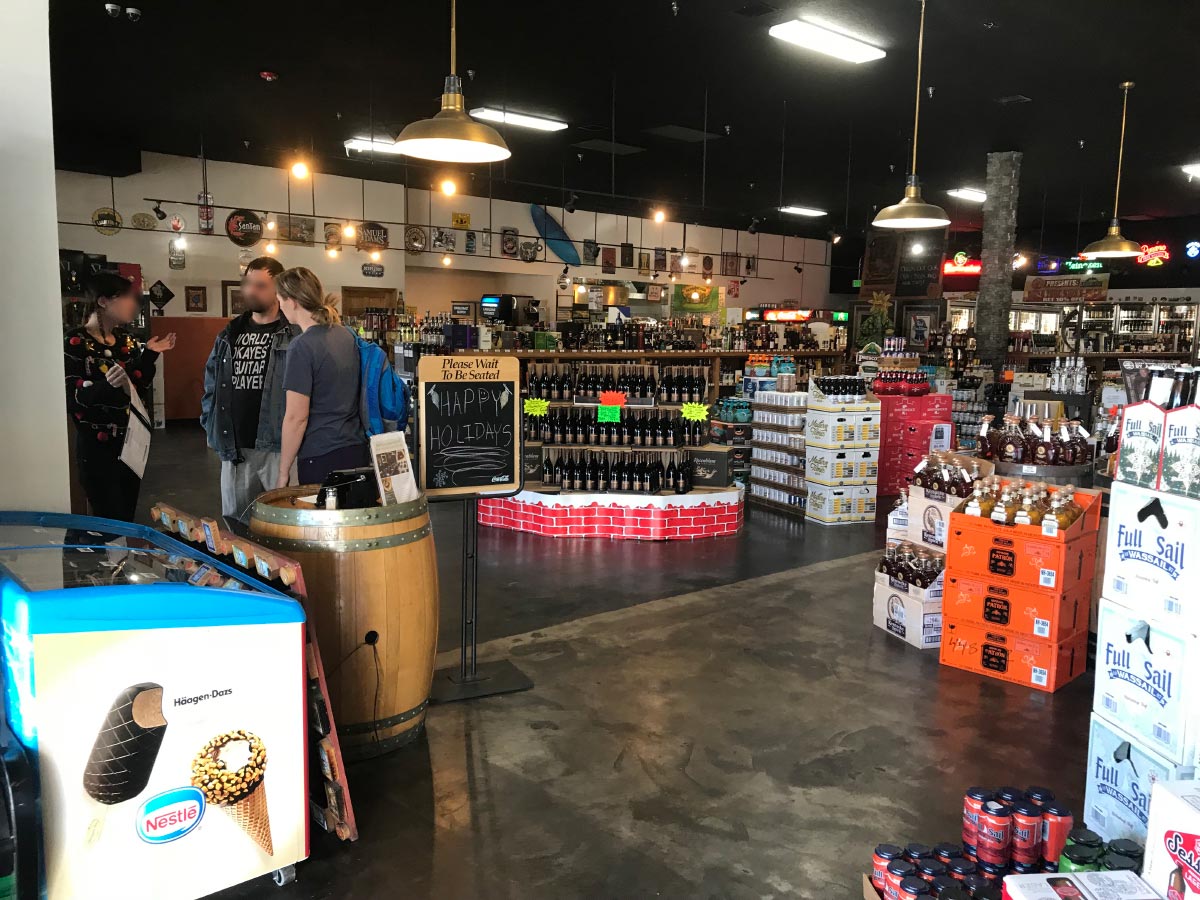 There's a "take out" counter in the back, to left, near the kitchen, past all the liquor aisles.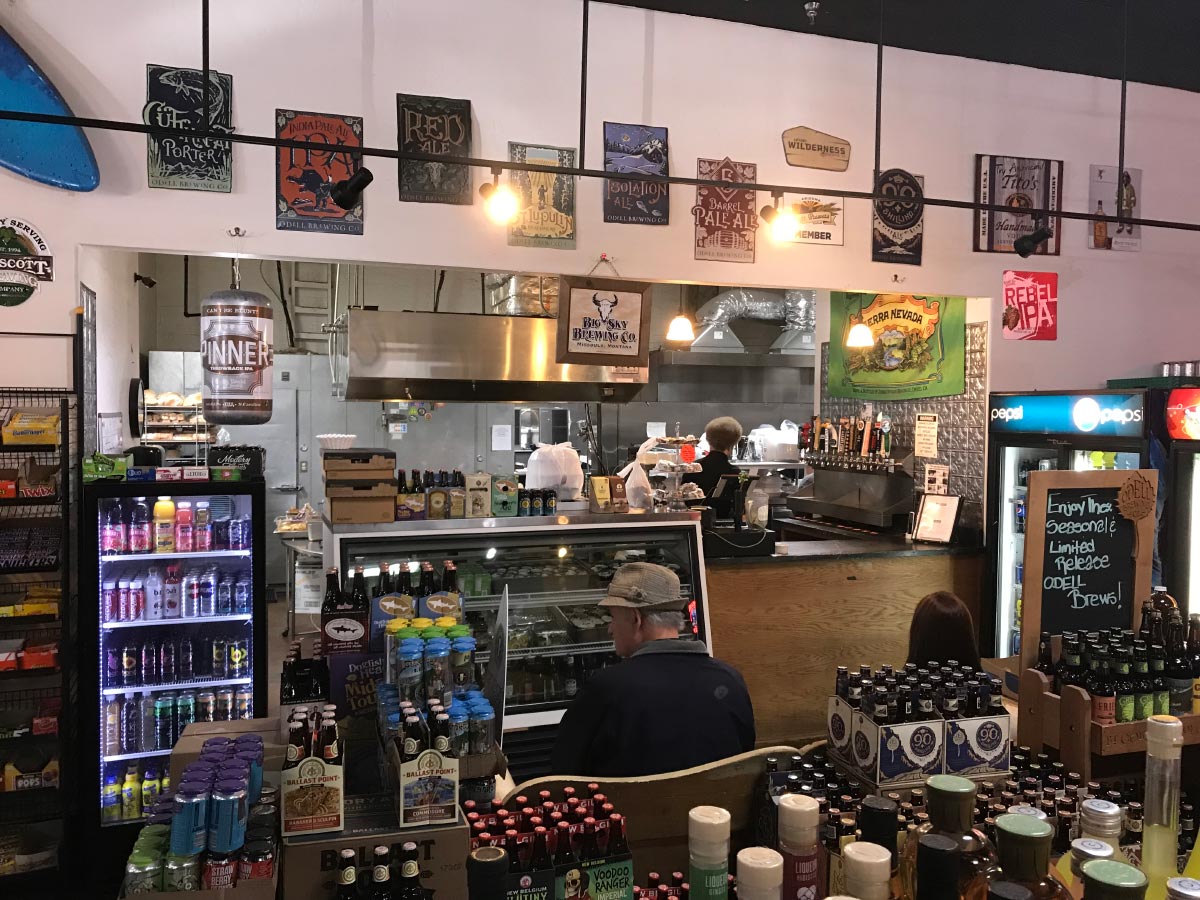 There's a counter, straight back, with bar tables nearby.
Normal table and chairs to the left, around the corner, with the outdoor patio beyond.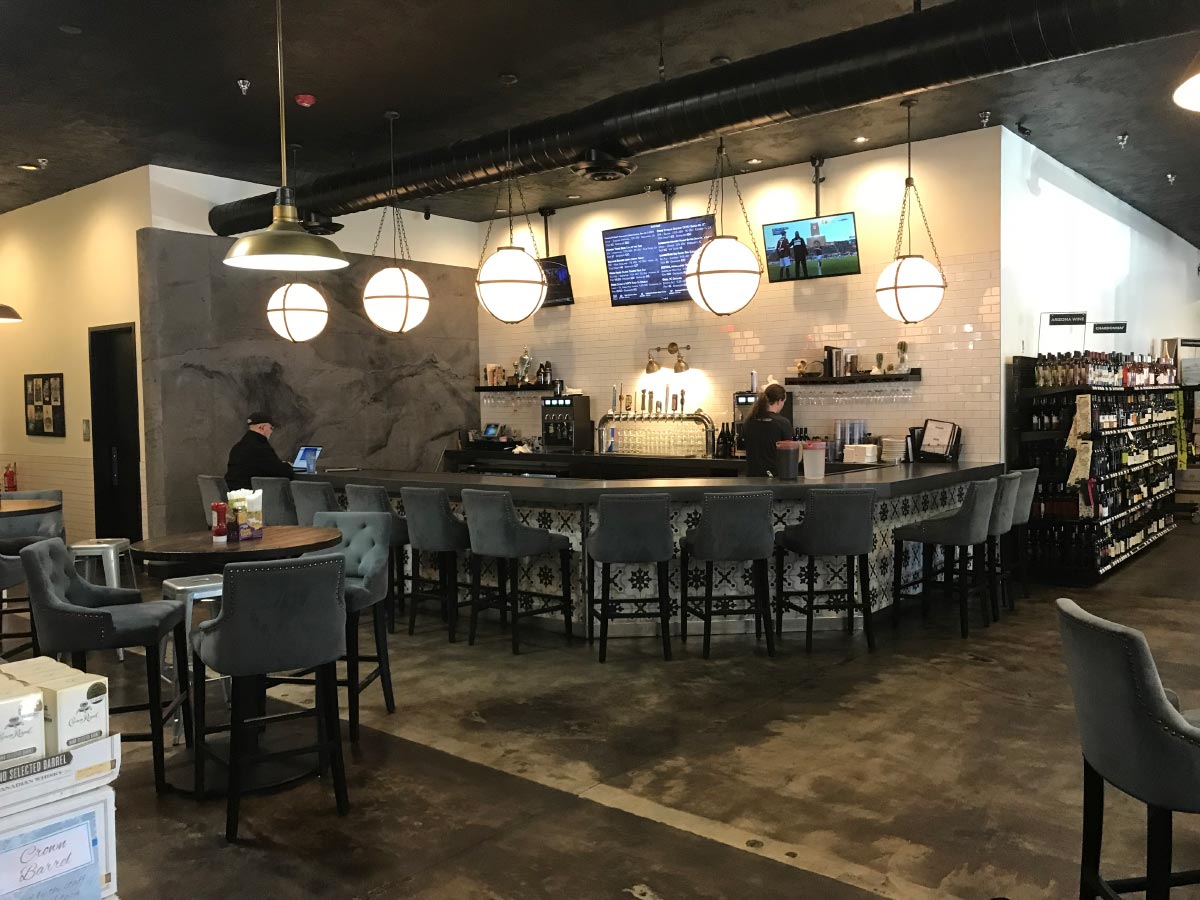 The bathrooms are pretty "hipster".
They have subway tile on the walls, always a nice touch, and one of those cool cast, slotted dark sinks.
Always a pleasure to use their bathroom.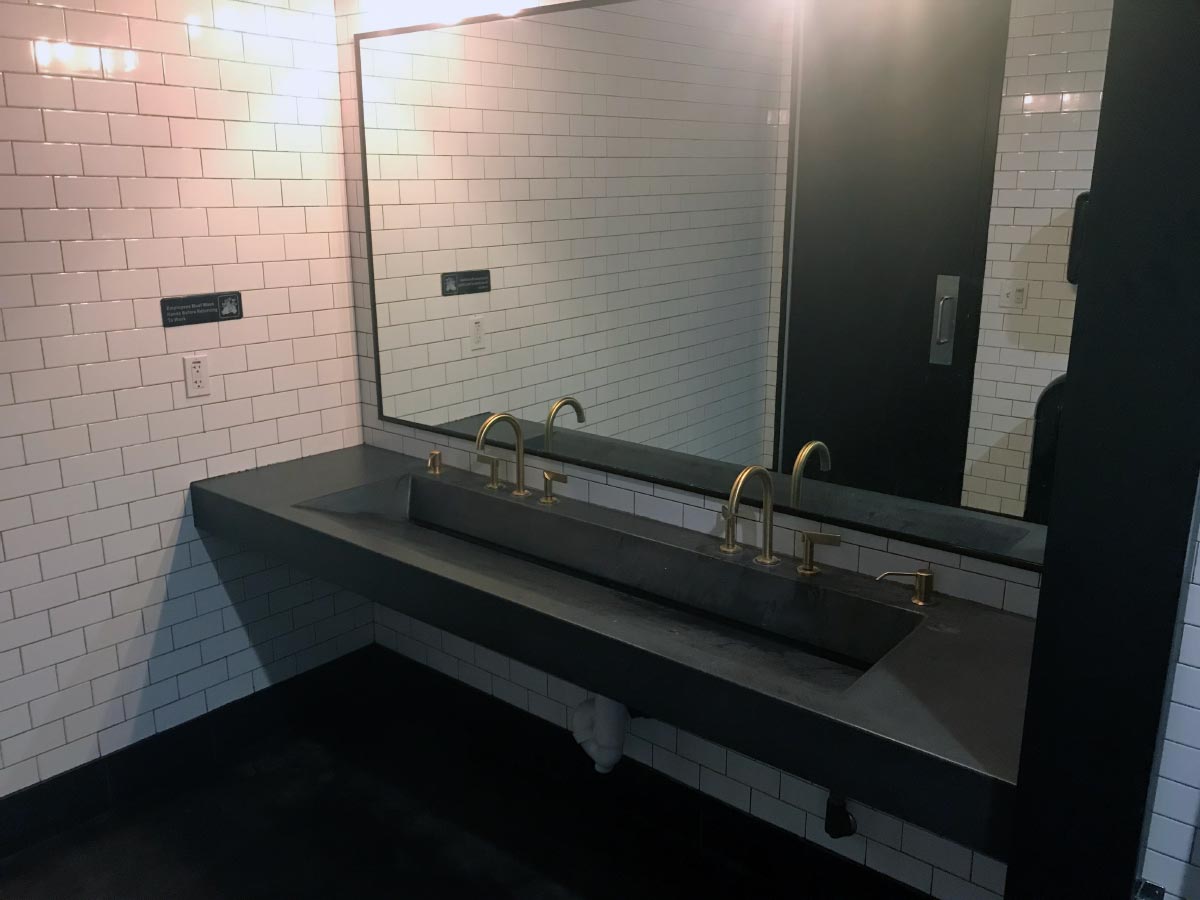 Their prices on wine, beer, and liquor on the store side are pretty reasonable. They seem cheaper than a grocery store.
The selection is also pretty diverse. You can find some pretty weird stuff to drink in there.
I've spent way too much time walking up and down the aisles reading labels and buying things because they looked cool.
This was my first restaurant review, because it's one of my favorites.
Most people I talk to about it have already been there and rave about it.
If you're one of the 12 people who haven't been there yet, I recommend that you check it out.
Worth the trip.